THE ARTISTMACHINE IN MILAN JUNE 2006
Mediateca Santa Teresa, Milan,June 8th - 24th.
The Mediateca is a media centre in the middle of Milan. As well as being somewhere a lot of people come and do online research, they have a programme of exhibitions, lectures, film screenings etc... The main hall is a huge triple-height space that was an old chapel, where the main porch used to be there's now a massive plate-glass window out onto a courtyard which in turn opens onto the street.
I installed the machine right in front of the window so the shredded paper would blow straight at the window and settle in uneven drifts blown by the eddying air currents hitting the glass.
The machine was thoroughly reconstructed for the show (and some subsequent venues which will be confirmed) so it looks a bit different to how it did in previous installations.
It also differred in occupying a public space that was not a gallery and was used by a varied public, most of whom were probably unaware that the machine was going to be there...
The machine went through its sequence every 12 minutes, which is an unusual division of the hour really. People in the mediateca would see it and go and look after it had finished but would gradually work out the sequence and wait and watch for it as it stamped and shredded the drawing it had been slowly making...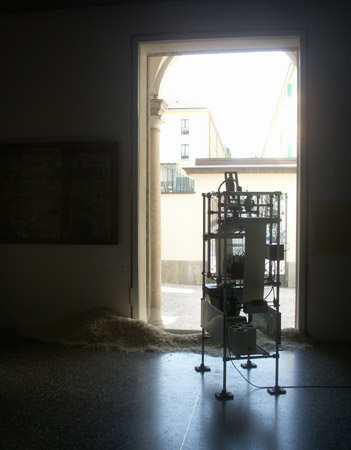 There is a catalogue available, published by Wild Pansy Press, ISBN 1 900687 22 4 with texts in English and Italian.Email your address and I'll send you a copy